Meet Mary.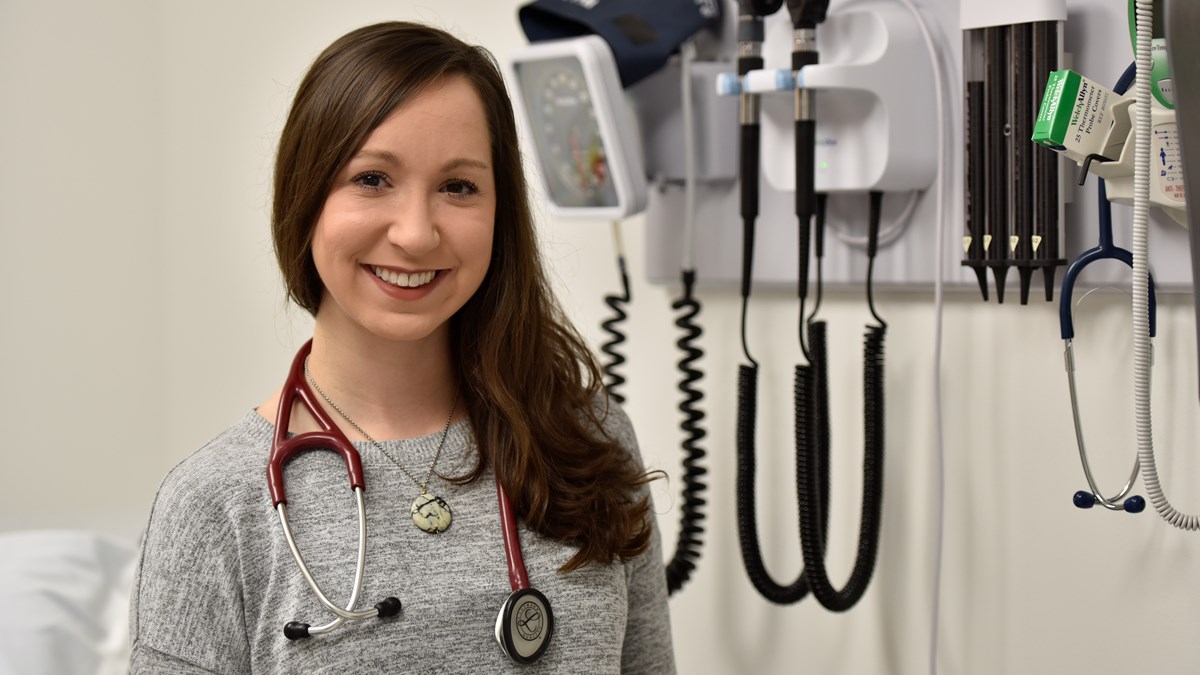 Mary Arose Mitchell, a native of Hurricane, West Virginia, knew since kindergarten that she wanted to be a nurse. She will graduate in May 2017 with a master's degree in nursing to become a certified as a Family Nurse Practitioner.
Why did you choose nursing?
I chose nursing because all of my kindergarten artwork said, 'I want to be a nurse when I grow up!' I've never imagined wanting to do anything else. I furthered my education with grad school because I wanted to do MORE for the patient. And, I really enjoyed the idea of dabbling in nursing education as well.
What is it like to be in grad school? How is it different than doing your undergrad?
Graduate school is completely different from undergrad because I still work as an RN two nights a week. In ways it's easier - I already know how to "think like a nurse," but it's also very hectic, balancing work, life, and school.
What do you want to do once you finish your degree?
I'm still trying to figure out what job I'd like to have - the options are endless. I know for sure I'll be volunteering at Health Right, the free clinic downtown.
How do you balance school with work and clinical and personal life?
I sleep very little! (Just kidding.) As nurses we are taught to be the ultimate time managers. I make sure that I have at least one day a week that is "my" day. Thankfully the WVU MSN program is mainly online.
What do you feel are the biggest challenges facing healthcare today and how can nurses help to address those problems?
One of the biggest challenges in healthcare, especially in West Virginia, is preventive medicine and low health literacy. Nurses provide holistic care, addressing the emotional, physical and spiritual needs of the patient. We are taught to be patient educators, which can be incorporated in both the Registered Nurse and Nurse Practitioner levels of care.
Are there challenges which you believe are more specific to nurses?
Due to the amount of time we spend with the patient it can be challenging not to get emotionally attached to your patients and to not take their health failures or successes to heart.
What has been your greatest accomplishment? Challenge?
My greatest challenge and accomplishment are wrapped into one. I was one of the first nurses to start in the float pool right out of school in many, many years at my hospital. It took a lot of time, training and awesome mentors to make me the nurse I am today.
Describe your best professional moment?
One of my best professional moments came after a busy night on a step down unit when I was about one year out of school and still very nervous. I took care of a gentleman that had gone through an extensive surgery resulting in a tracheotomy and the inability to speak. I spent most of the night doing my best to communicate with him while still caring for his airway, etc. Several weeks later he was admitted on a different unit for a different procedure and when he saw me working he jumped out of bed and gave me the biggest hug, thanking me for that long night when he was so sick.
Best thing about being a nurse?
Seeing the patient get better or be more comfortable. Having a patient family member tell you they worried less because you were the nurse taking care of their loved one. Last but not least, the awesome friends you make along the way. Nurse friends are friends FOREVER.
Best piece of advice you would give to a student who is considering pursuing a master's in nursing?
Don't rush into it. Your experiences as an RN will only help you along the way.
When you are not being a nurse or going to school, you are …?
Cooking, skiing or hiking with my awesome husband.
Describe yourself in one word.
Enthusiastic!