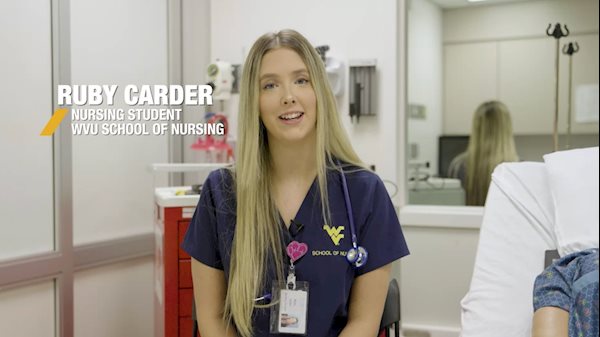 Ruby Carder, a WVU School of Nursing junior, recently volunteered to participate in a video highlighting the West Virginia Simulation Training and Education for Patient Safety Center (WV STEPS Center).
The video is part of a partnership between WVU Extension and West Virginia Public Broadcasting, Energy Express on WVPB-TV, which brings youth programming into the homes of West Virginia families. Viewers can tune in to enjoy engaging and fun activities in literacy, STEM, art, cooking, nature and more.
"I wanted to participate in this video because I wanted to be able to show the opportunities the WV STEPS Center provides," Carder said. "The facility is a great way to learn before stepping foot in the hospital. There are many skills I have learned in the STEPS Center that have helped me through the nursing program."
Carder, who is enrolled in the Bachelor of Science in Nursing (BSN) program, said she has learned many skills in STEPS, such as giving medications, bathing patients, hanging IV bags, inserting catheters, doing assessments, providing wound care, and much more. She said she believes it is important to discuss career opportunities with kids at a young age.
"Nursing is an incredible field in healthcare because you get to heal people," Carder said. "As a young viewer, it's important to know the career options out there. Viewers of this video will be able to see what it's like to practice as a nursing student or a medical student."
Carder said she wants to become a nurse because she has always wanted to care for others. The profession will also allow her to explore multiple disciplines within the field, and to further her education and career if she wishes.
"Nurses are a crucial aspect of the healthcare system, and the world needs more of them constantly," she said. "I want to be able to make a difference in peoples' lives while providing the comfort and care they deserve."
Carder offered her appreciation to Andrea Bailey, Director of Nursing Simulation, and WVU Extension for giving her the opportunity to share her experience as a nursing student using the WV STEPS Center at WVU.
-WVU-
CONTACT: Wendy Holdren
Director of Communications and Marketing
WVU School of Nursing
304-581-1772; wendy.holdren@hsc.wvu.edu