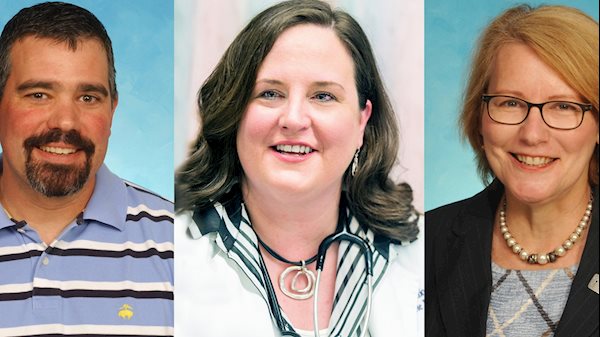 Three West Virginia University Health Sciences' faculty members have been tapped by West Virginia Gov. Earl Ray Tomblin to help address the growing healthcare needs in West Virginia.
Tomblin appointed Dr. Warren Eller, associate professor of Health Policy, Management and Leadership in the WVU School of Public Health, and Drs. Toni DiChiacchio, assistant dean of Faculty Practice and Community Engagement, and Sandra "Sam" Cotton, associate professor, both of the WVU School of Nursing, to serve three-year terms on the newly formed Joint Advisory Council on Limited Prescriptive Authority.
Earlier this year, the West Virginia Legislature passed House Bill 4334 which expanded the scope of practice for Advanced Practice Nurses (APRNs). The creation of the Joint Council is an extension of the bill and will focus on advising West Virginia Board of Nursing regarding collaborative agreements and prescriptive authority for APRNs.
The council is tasked with reviewing and evaluating applications for APRNs to prescribe medications without a collaborative agreement; assisting APRNs with entering into collaborative agreements in non-emergency situations, including providing the contact information for physicians with whom the APRN may collaborate; advising the board in emergency situations of a rescinded collaborative agreement, giving a 60-day grace period; and reviewing/advising complaints against APRNs, as well as other issues pertinent to prescriptive authority.
The council also will work to develop a pilot project allowing independent prescribing of controlled substances by APRNs and study results to ensure patient/public safety, while also developing other studies and/or pilot projects to address issues such as access, outcomes and cost effectiveness of services; the optimal length of time for transition into independent prescribing; and methods to foster effective communication among healthcare providers.
"I look forward to collaborating with this distinguished group of medical professionals who are working to improve healthcare delivery throughout the state and especially in rural communities," Eller said.
Eller has a doctorate in political science from Texas A&M University and a master's in public administration from WVU. Prior to joining the WVU School of Public Health, he served as chair and MPA director of the University of North Carolina-Pembroke's Department of Public Administration. His areas of expertise are public policy implementation and evaluation, and crisis and disaster management, response and recovery.
DiChiacchio received a Doctor of Nursing Practice from WVU in 2014. She also holds a master's degree in nursing from Florida Atlantic University, an associate's degree in nursing from Indian River State College and a bachelor's degree in accounting and economics from Shepherd University. Before joining the School of Nursing, DiChiacchio owned and operated Health Thru Care LLC in Morgantown, a clinic specializing in primary care. Prior to that, she worked as a nurse practitioner at Preston Healthcare Services and as an advanced practice registered nurse at Ruby Memorial Hospital and at St. Lucie Medical Center. After graduating from Shepherd, she worked for the Internal Revenue Service in Fairfax, Va., while earning her CPA, and she later opened her own accounting practice.
Cotton, a veteran with more than 34 years of service with the U.S. Air Force, earned an associate's degree from Hocking College, a Bachelor of Science and Doctorate of Nursing Practice, both from WVU, and a master's degree from the University of Maryland. She is involved in clinical education for graduate students, with a specific focus on helping to education future APRNs, and also sees patients and precepts students in a local free clinic.
"We are honored to represent Advanced Practice Registered Nurses who are dedicated to providing safe, quality care to our fellow West Virginians," DiChiacchio said. "We look forward to working with our colleagues to look at additional policies and practices that will allow us to improve access to healthcare here in our state."
For news and information on the WVU School of Public Health, visit publichealth.hsc.wvu.edu or follow us on Twitter.
For news and information on the WVU School of Nursing, follow us on Twitter, like us on Facebook or visit nursing.hsc.wvu.edu.