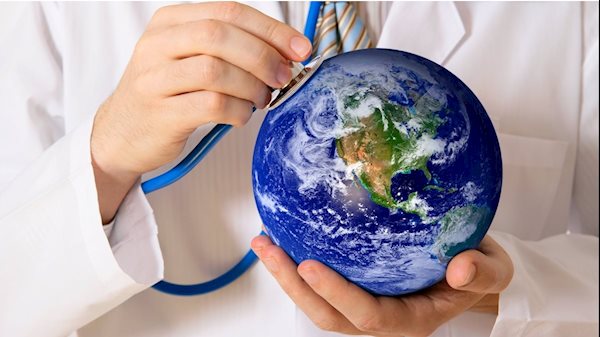 Global health challenges and experiences will be explored during the School of Medicine's 2018 Global Health Week held at Health Sciences.
The event features keynote speaker John Kahler, M.D., FAAP founder of MedGlobal and is sponsored by the Global Health Program.
Daily lectures will feature a speaker at noon starting Monday, Oct. 15 through Friday, Oct. 19 in Room 1909.
"The world is a global health community," Melanie A. Fisher, M.D., MSc, director of the global health program, said. "The health of other countries is closely linked to the health of our own communities in the United States. Lessons learned in global settings can be applied to our own health challenges in West Virginia. It is important for us to have ideas and knowledge concerning global health issues in order to improve the health of people worldwide."
The lecture schedule and featured speakers are as follows:
Monday, Oct. 15:
"Humanitarian Front Lines"
Key Note Speaker: John Kahler, M.D., FAAP
Founder, MedGlobal
Dr. Kahler spent 40 years practicing medicine and 20 years in academic medicine, before retiring and devoting his practice to the Syrian American Medical Society. Dr. Kahler has seen hundreds of refugee pediatric patients in a number of clinics and refugee camps across many cities in Lebanon. He treated a number of ailments, performed well child checks and was consulted on a variety of difficult cases. https://www.sams-usa.net/2017/07/27/families-heart-break/

Tuesday, Oct. 16:
"Serving with Project Hope in Hurricane-ravaged Puerto Rico: A Great Interprofessional Health Care Experience"
Douglas Slain, PharmD
Chair and Professor, Clinical Pharmacy
WVU School of Pharmacy

Wednesday, Oct.17:
"WVU IM Global Health Track Perspectives"
Fahad Chaudhary, M.D.; Varun Badami, M.D.; and Devan Makati, M.D.
Global Health Track Residents, Internal Medicine
WVU School of Medicine

Thursday, Oct. 18:
"San Lucas, Guatemala"
Katie Fullen, Eric Hatten, and Miranda Kalaskey
WVU School of Dentistry

"Global Health Nursing: The Seed of Prevention"
Kelly Lopez and Kaylee Schmidt
WVU School of Nursing

Friday, Oct. 19:
"Medical Volunteerism in Haiti"
Aaron Mason, M.D.
Assistant Professor, Plastic & Reconstructive Surgery
WVU School of Medicine
Lectures are open to all health professions students, residents, faculty, staff and the Morgantown community. Lunch will be provided to those who RSVP by Oct. 8 to Jacque Visyak at jvisyak@hsc.wvu.edu.