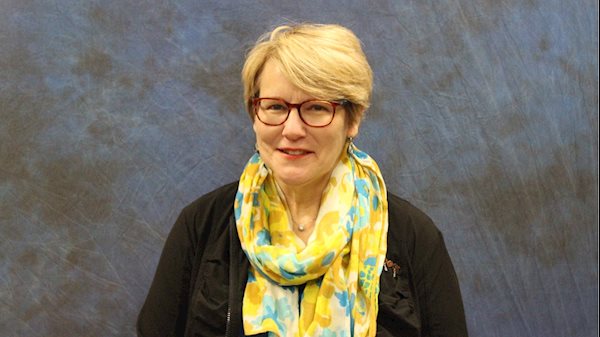 She's a veteran of two Gulf Wars. A nurse, an educator and a staunch advocate for nurses, veterans and the LBGTQ+ community. Now Dr. Sandra (Sam) Cotton is the chair of the WVU School of Nursing's (SON) Diversity, Equity and Inclusion Committee.
A nurse for more than 40 years and WVU faculty for more than 25 years, Sam shares why diversity initiatives are important for the greater WVU community and how her experiences have shaped her for this role.
How has your career and life shaped your role to participate and lead the SON's DEI team?
Sam: "On the back of a WVU Alumni mailing the University's Social Justice statement (at that time — 1993) said the organization did not discriminate against anyone based upon "color, creed, religion, national origin or sexual orientation" that said this was the place for us - where we would be welcomed.
"As a veteran, we're 1% of the population. Especially since 9/11, the need to advocate for the veteran community has become more pressing."
Why is it important for us as a community to celebrate and promote diversity?
​Sam: "Celebrating diversity is incredibly important, to let others in the community know they have allies here. We are with them on their journey, and that whoever you are - as an underrepresented member of our community - you are not alone."
How do we work with those who don't believe diversity is an important issue today? How do we bring them along the journey? ​
Sam: "Diversity Week is not only for members of underrepresented communities - but is also for the broader public to help them become smarter about who makes up the WVU community on all our campuses in Charleston, Beckley, Keyser, Martinsburg and Morgantown.
"We bring others along on the journey by first sharing our stories and letting them know about our experiences. For me, a tremendous amount of energy was spent literally hiding -- while serving in the military for more than 34 years and through two wars -- all while enduring sexual harassment. This was during a time of me balancing family and civilian jobs through the years, being an advocate in the HIV AIDs community during the 1980's and then witnessing the mass discharges of bisexual, lesbian and gay service personnel.
"The paranoia of worrying about even receiving mail from a national organization that worked for gay service members rights was exhausting. Along with worrying your face would be captured on camera while marching for one of the first gay rights marches on Washington.
How have times changed?
Sam: "Now younger people want to express their pronouns differently, when in my youth we had to hide them - and now that I'm no longer in the military, I want to say she/her about my spouse - or myself - and that's not en vogue with the younger BGLTQ+ community. And you know what? They're okay with that, and I'm okay with their frame of reference. It's about respecting each other's point of view.
"We are all members of this community. We may only agree on select issues - like access to health care - but not necessarily about how to get there. Thankfully, one thing most all agree upon, we're all Mountaineers! And knowing that, somehow will see us through. We must be open to change — I believe our commonality, of all being Mountaineers, is a great starting place."
About Sam
Sandra "Sam" Cotton, DNP, RN, ANP-BC, FNAP is a Clinical Associate Professor at West Virginia University School of Nursing. She earned an Associate's degree from Hocking College; a Bachelor of Science degree and a Doctorate of Nursing Practice degree from WVU; and a Master's of Science from the University of Maryland. Dr. Cotton is pursuing a post-doctoral certificate in Veterans and Military Health, through the University of Colorado.
Sam is a retired Lieutenant Colonel, Chief Nurse, and examiner flight nurse with the West Virginia Air National Guard. She is a 34+ year veteran of the United States Air Force; served in Gulf Wars I and II, including two tours with the 379th and 332nd Aeromedical Evacuation Squadrons in Balad, Iraq, as a Commander and Senior Flight Nurse, flying and caring for wounded troops in Iraq, Afghanistan, and Germany.
She has participated in local, state and national nursing organizations and associations.
Sam and her wife, Dr. Karen MacKay, live in Morgantown.