'Write Your own Ticket' through Education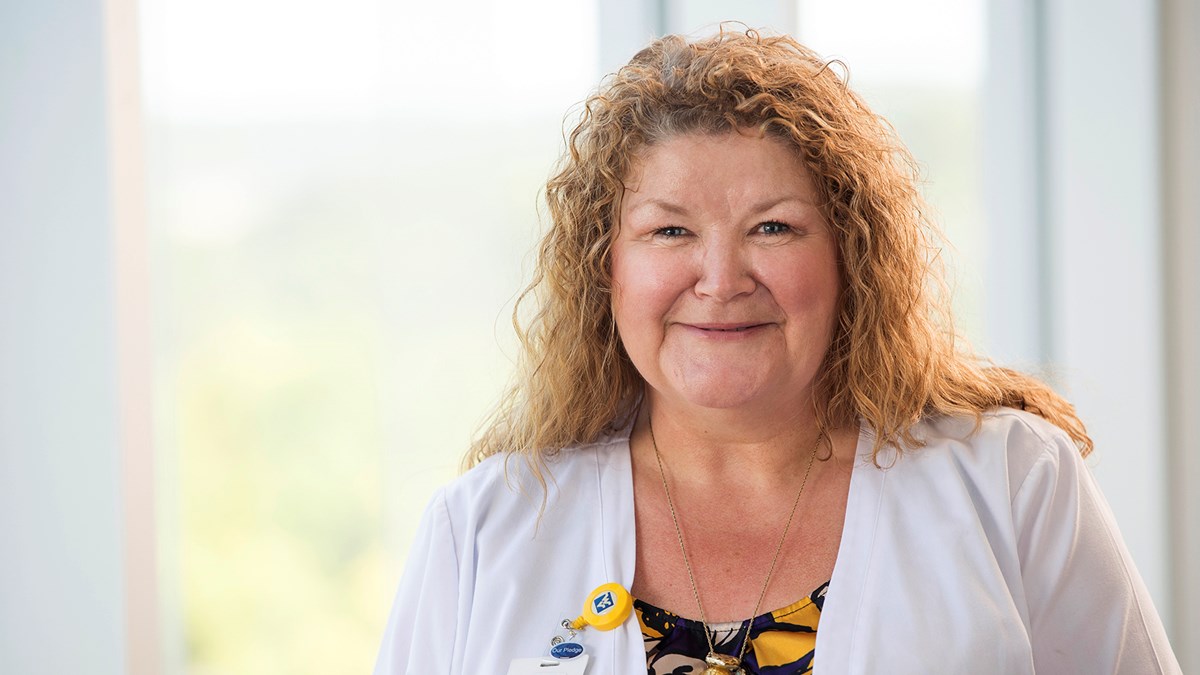 If you asked Vicki Chase for her secret to building a 35-year nursing career, she would tell you she owes it all to her education. She would also tell you that sometimes the journey to that education is not quick or easy. But Chase is proof that with a determined spirit and a strong passion for your profession, you can accomplish anything. 
More than 30 years ago, Chase completed a three-year nursing program and began her journey as a staff nurse with WVU Hospitals. Shortly after taking on her first management position (one of many throughout her extensive career), she made the decision to go back to school to pursue her bachelor's degree in nursing at the WVU School of Nursing.
After 13 years, four kids and a few job changes, she graduated with her BSN in 1998. She is the first to admit that it was not an easy task, but Chase continued her studies despite her inability to take more than six hours each semester. Recalling her experiences, she noted, "I love education. I think that it's important to be learning and doing things, but it was a grueling time in my life with multiple job changes and a growing family. It was just not an easy thing to do. But education is something that can never be taken from you. It opens every door, and it enables you to write your own ticket."
Five years later, Chase was back in the classroom pursuing her master's degree where she relished in the opportunity to learn more about the field of nursing, including courses which allowed her to hone her leadership skills and expertise.
Her journey to higher education was not without its struggles. She still had her family to think about, so Chase could only take classes that met the tuition reimbursement requirements offered through her work. It took her an extra year to complete her master's degree in nursing, and no matter what adversity she faced throughout her combined 16 years of education, she was committed to achieving her goals.
Along the way, Chase never wandered far from patient care. Even as she transitioned into other leadership positions, helping patients remained her passion, and in each job, she sought a certain mix of responsibilities. "In my opinion, the best roles have diversity in them – ones where there is measure of patient care, but also the ability to do other things."
It was her search for that perfect combination of care and opportunity that led Chase to her current role as department coordinator for WVU Medicine Diabetes Education Center where she is helping patients develop healthier lifestyles while working to expand the scope of services offered through the Center. When she first arrived in this new role, there was only an outpatient program and consults were done with patients of the hospital. Today, the Center has grown to include an expanded outpatient program, a diabetes prevention program and an increased number of in-house consultations which has allowed staff to see every adult patient with diabetes.
"Our goal is to help people living with diabetes in West Virginia and surrounding areas to decrease complications related to diabetes and to improve the quality of their life," Chase explained.
The Center is in the process of its first expansion outside of the hospital. Soon, staff hopes to establish diabetes care and classes through the Department of Family Medicine located on the outskirts of Morgantown.
Chase's efforts over the years have not gone unnoticed. She was recognized for her passionate care and determined spirit with the inaugural 2016 WVU Medicine-WVU Hospitals Magnet Nurse of the Year Award. She was selected for this honor after undergoing a rigorous nomination and evaluation process. Following her recognition, Chase was overwhelmed by the response of her family, friends and community. "I've never had anything be such a big deal. It is such an honor."
While some may consider her years of service and accomplishments her legacy, Chase believes that her legacy lies in 'someone' rather than 'something.' She has passed her love and commitment to nursing on to her daughter, Alyssa Chase, a fellow nurse and student in the School of Nursing's Doctor of Nursing Practice program. It was Chase who encouraged Alyssa, a mother herself, to take the plunge and continue her education, telling her, "Don't do it the hard way. Don't do it in baby steps over the next 25 years. Just buckle down and do it."
"My mom instilled the value of hard work in all of us. She started from the bottom and worked her way up. I am beyond proud of her. She's my mentor, my role model and I aspire to be like her," Alyssa Chase said.
Chase is truly an advocate for education. Once you have the degree, she believes what you decide to do as a nurse is completely up to you. "The beauty of nursing is you can rewrite your own ticket as many times as you'd like if you have the education behind you," she said. "There is nothing that you can't learn and put your arms around."
Recalling the affect it has had on her career, she added, "When I look back at 35 years of nursing and all the things I've had both the privilege and the opportunity to do, when I needed a change, I've been able to do it because of my education. It truly is the degree that makes the difference."
Although her journey as a nurse has not been easy, Chase is proof that if you work with passion and determination, anything is possible.