Mission Trip to Haiti Turns Out To Mean So Much More For Nursing Grad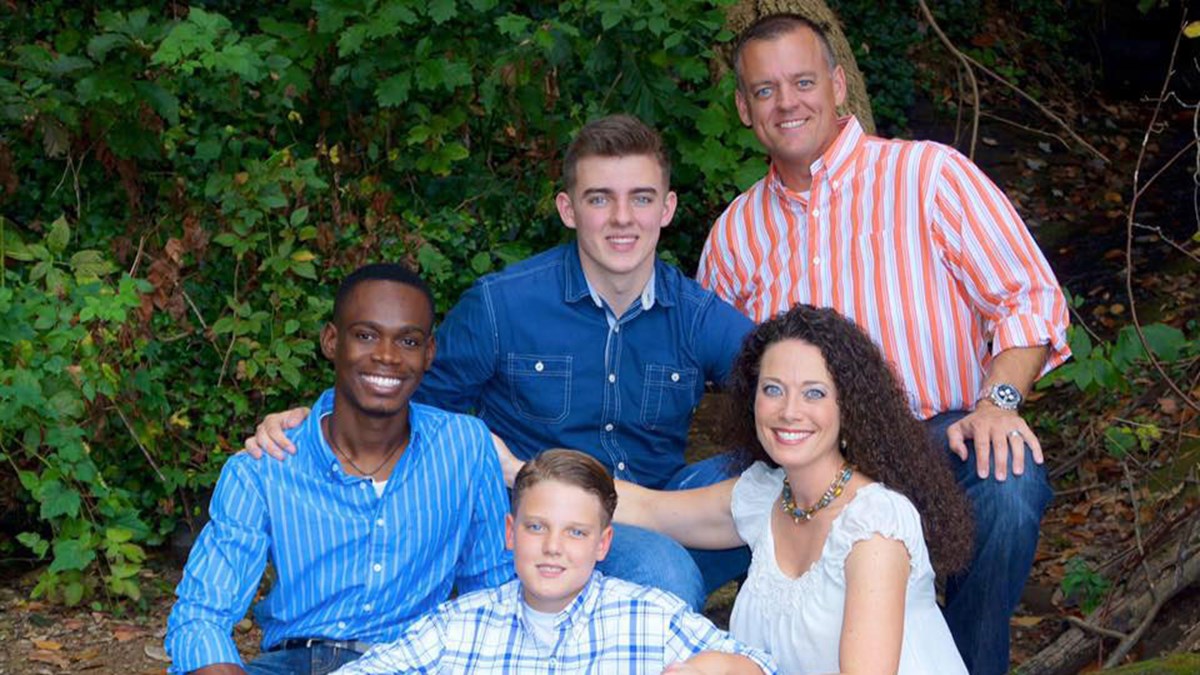 When other volunteers go on international mission trips, they often return with countless memories, a changed perspective and maybe even a small memento to remind them of the experience. Jacqui Ranson brought back a son.
After working as a family nurse practitioner for 12 years, the West Virginia University School of Nursing alum (MSN '01, BSN '99) had the opportunity to put her skills to work and fulfill her longtime desire to do medical mission work during a trip to Haiti in 2013. Eager to serve the poverty-stricken country, Ranson traveled to the community of Digue Matheux, located about 45 minutes outside of the Haitian capital of Port Au Prince, to volunteer at a medical clinic.
The mission she was working with assigned a young man to be her translator (Haitians primarily speak Creole, but some also speak French). Marc Henry, who was 19 years old at the time, spoke both languages fluently and had learned English from other Americans who had visited his village. When they first met, Ranson had no idea her life would be forever changed by this bright young man, but she quickly loved his "beautiful smile and loving disposition."
When Ranson returned to the United States, she couldn't ignore the feeling she was being called to do something to improve this young man's life. Ranson could see he had the "intelligence to succeed, perseverance to survive and a personality that everyone loved." All he needed was an opportunity to put those attributes into action. That's where she felt she could help.
Just eight weeks after her return to the U.S., she traveled to Haiti with her husband and two sons to meet Marc Henry. Her husband, Mark, and the boys instantly accepted him as part of their family, and within four short months, they were all in Haiti once again. This time, they were able to bring their third son home with them. Now living in West Virginia with the Ranson family on a student visa, Marc Henry is in his third year of college, where he is studying hospital administration.
Giving Marc Henry the chance to receive an education was important to Ranson because of the opportunities she was given as a nursing student. She believes she would not be the person she is today without the WVU School of Nursing.
"At one time, I was just a little girl growing up on a pig farm. But because of my education at West Virginia University, I am now able to help people all over the world," she said.
As Marc Henry continues to work to improve his own life, he remains committed to bettering the lives of his people. "Haiti needs people like me to help make a change. My goal is to one day move back and use my education to serve my people," he said. "It is my dream for everyone to have access to a job, education and healthcare."
He returns to Haiti on each of his breaks to help in any way he can. At the young age of 22, Marc Henry serves as a village elder in Digue Matheux.
Because of his determined and generous spirit, Ranson says he is an inspiration to everyone who knows him, including those beyond the Haitian borders. But she and her family have been equally inspiring to him. "How they serve others without expecting anything in return has greatly inspired me to give back," he shared. "The way they love is unexplainable."
Ranson's desire to help the people of Haiti remains strong, and that passion has only grown stronger. She and her family have opened their own non-profit organization called Heart of the Mountain Mission in Marc Henry's native village and are now dedicated to the organization.
The first step was to build a facility – with property secured and blueprints in hand, the Ranson family is working hard to bring their nonprofit to life. Once the structure is built, the goal is to bring medical and nonmedical missionary teams to the area to serve the local people.
Ranson plans to establish the facility as a clinical rotation site for future nurses, nurse practitioners, physician assistants and doctors. She has been a preceptor for nurse practitioner students for years, but it wasn't until she took one of her students to Haiti that she realized the "true value of an international clinical experience" – an opportunity she feels cannot be matched by most found here in the U.S.  
In the meantime, Mountain Mission has been serving the community of Digue Matheux through other projects.  
It is now operating a nearby primary school with 335 children, ranging from kindergarten to sixth grade. When the school lost its sponsorship after more than 22 years, the Mission was able to secure enough funding to keep the doors open.
Following Hurricane Matthew, the Mission was able to feed more than 400 families that were affected by the storm. Beyond that, Ranson said the Mission is working to build a block machine plant in the village, "providing much-needed jobs and a future of self-sustainability for Digue Matheux and neighboring communities."
Through Heart of the Mountain Mission, Ranson hopes to continue helping the people her whole family has come to love.
"We have great dreams that we will someday, somehow, someway make positive change for these wonderful people," she said. "Haiti has become an integral part of our daily lives. We are invested in Marc Henry's village and very committed to the beautiful people and the country of Haiti."