Meet Marseille.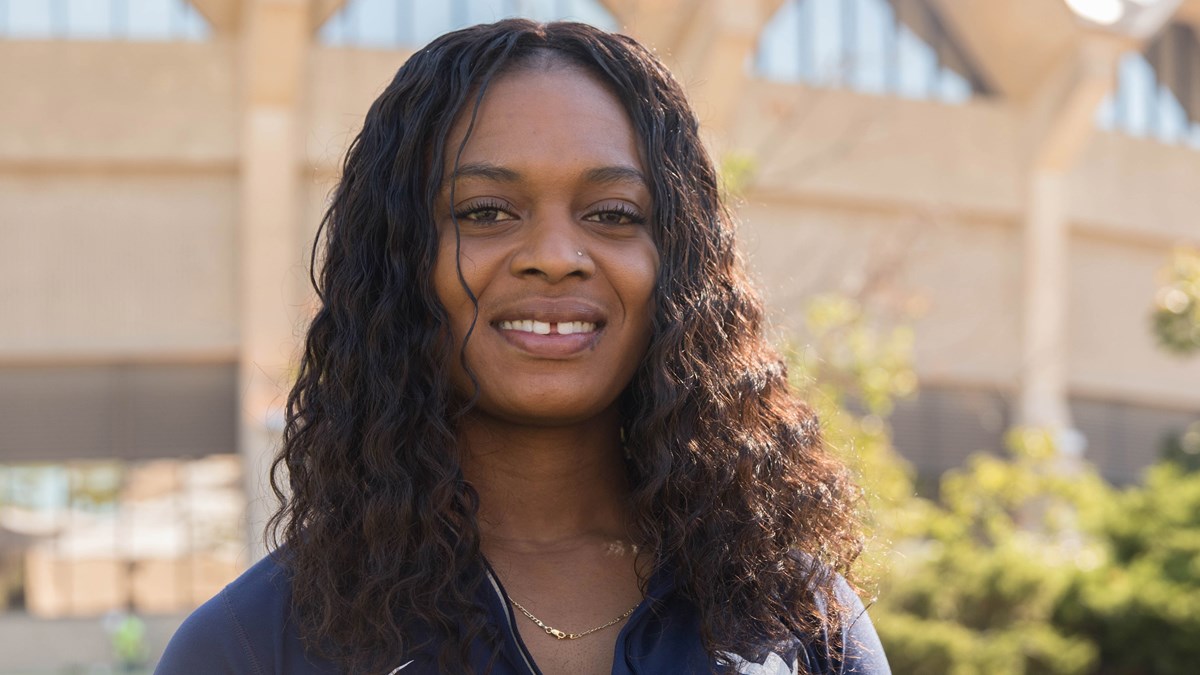 Marseille Mcbeam, a junior nursing student from Ocho Rios, Jamaica, juggles the demands of nursing school while also being a high jumper on the WVU Track and Field team. She always knew from a young age that she wanted to help people, and now she is fulfilling her dream at West Virginia University.
Why nursing and why WVU?
I did a lot of research and knew the WVU School of Nursing was one of the best programs in the country. Growing up in Jamaica, there are many things you are exposed to at a very tender age, and I knew that I wanted to reach out and help people. It has been my ultimate desire since I was a little child, and I'm grateful to be able to fulfill my dream here at WVU.
What is a typical day like for you?
I get up around 6 a.m. and head to my clinical rotation, which begins at 7 a.m. I get done around 12 or 1 p.m., and then I have track practice around 2 p.m. I then go to study hall to get my work done and get ready to start it all over again. As a nursing student, you have to do pre-planning for your clinical work, and that takes a lot of time, so I spend Mondays and Wednesdays focusing on the clinical piece and attending class. On Tuesdays and Thursdays, I spend time doing the actual clinical training/coursework. It is demanding, but it's all about dedication. It's about setting your priorities.
How do you balance being a student athlete and a nursing student?
Track and field and nursing school are both hard. You have to know how to communicate with the coaches and your professors to make sure you stay on track (literally). Focus and go one step at a time. Good time management is a must.
Favorite nursing class?
Med surge. This is one of the most difficult classes. It entails a lot of head to toe stuff. You learn the systems one by one and then learn the nursing management piece. It's what you go into the hospital and actually do – the hands-on stuff – and I really like that.
Biggest challenge?
I'm a track athlete and a nursing student. It's been tedious and hard. I sometimes think I can't do it, but I came here for a reason, and I'm going to get it done.
Biggest success story?
I never dreamt of going to college. Back home, you finish high school and you normally go to work. Now that I'm here, I think that's a success. It's one of my biggest accomplishments.
Who is your favorite professor?
Beth Minchau. She understands the challenges of being an athlete and working/going to school. She's a great instructor.
When you are not high jumping or being a student, you are …
Nothing! I don't have much of a social life - nursing and high jumping, that's my social life! It takes a lot of time and you have to be dedicated to what you want.