Meet Kat.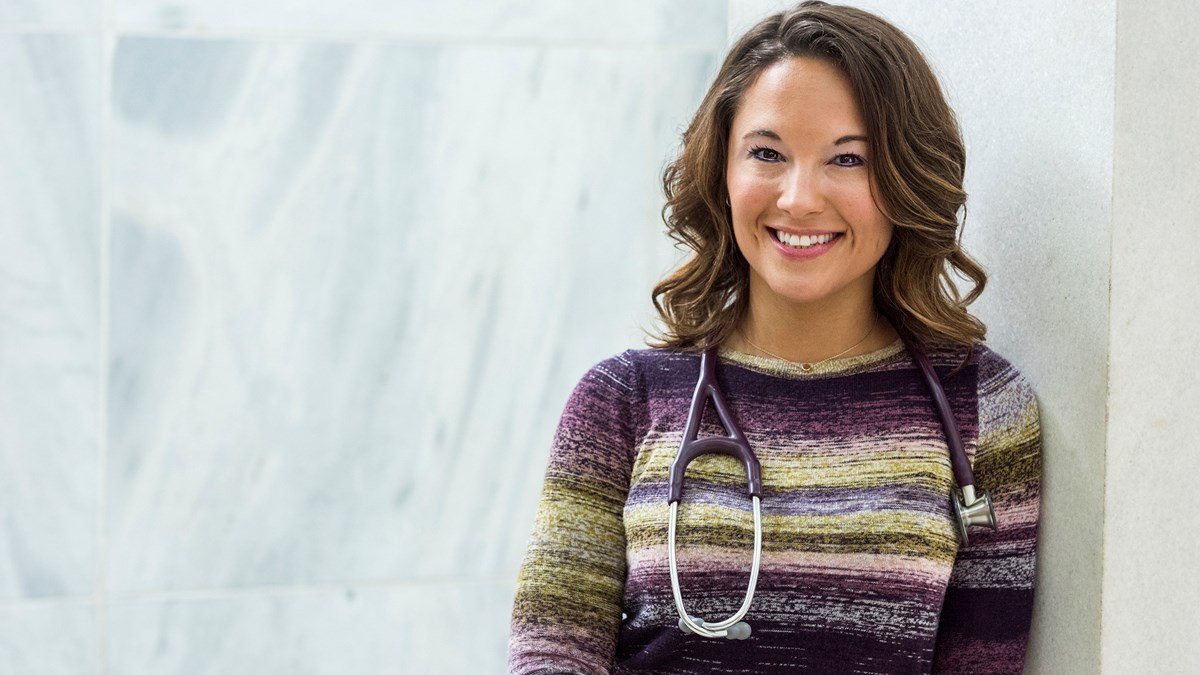 Kat Deremer, a native of Bedford, Pennsylvania, wants to give a voice to those who need it, particularly as it relates to healthcare. Her passion for rural health is driven by her desire to ensure that people in rural and underserved communities have access to the the same healthcare resources as those who live in big cities. One day, she hopes to take that passion on the road in a van providing mobile healthcare resources to those who need it most. Meet Kat.
Tell us a little bit about you.
I am a native of Bedford, Pennsylvania, and graduated from Bedford High School in 2007. I did my undergraduate degree from Indiana University of Pennsylvania and during that time spent three summers living in Africa (Mozambique and Kenya).
I moved to Morgantown and started working at WVU Medicine in 2014. The following year, I began the FNP program and working as a grad assistant at the School of Nursing.
Why did you choose nursing? And why WVU?
I chose to pursue nursing after I job-shadowed my grandmother in 8th grade at the hospital where she worked. She worked in the lab and took me on a tour of the hospital. When we went to see the inpatient units I was so impressed with how much work the nurses did for the patients and how knowledgeable they were and knew that, someday, I wanted to be just like them.
Why WVU? I looked into other programs in Pennsylvania, but WVU had excellent reviews and the highest standards. I came to see Morgantown for the first time and moved here four months later. I loved it and it was the best decision I've ever made! 
Tell us about the training and clinical experiences you had during your studies at WVU.
When I told my practicum faculty that I was interested in working with underserved populations, they placed me at clinical sites where I would get the full experience to do just that.
One of those sites is Health Right, a free clinic in downtown Morgantown specializing in caring for the uninsured, underinsured and homeless. I was able to learn how to meet the needs of patients not only physically but mentally and emotionally as well. 
At USP Hazelton, I had the opportunity to perform new intake appointments for both male and female inmates and conducted chronic care follow-up visits for the management of continued disease processes. I learned how to accommodate patient needs based on available resources and supplies and how to coordinate care beyond the prison walls as needed. 
I also had the opportunity to work at the Mon County Health Department where I was able to focus on specialty areas such as family planning, women's health and STI treatment. It was a great environment for patient education and gave me the tools I needed to become an advocate for women to have equal healthcare coverage and access.
What do you think it takes to be a good nurse?
I feel that you must be compassionate, you must be resourceful and you must be willing to learn something new every single shift. Never be afraid to stand up for a patient when you know they need something! Also, trust your gut!!
Tell us about your most recent experience traveling to Honduras.
Honduras was an incredible learning opportunity that I will never forget. During my time there I acted as a nurse/nurse practitioner triaging, diagnosing, treating and prescribing medications for patients ranging from newborns to 90-year-olds. It was an eye-opening experience to work with limited resources and navigate the language barrier that made me realize how much I take for granted in my own life.
One major theme of the week was access. The lines out of our clinic doors every day were filled with people waiting hours to be seen because it was never certain when the next team would be coming back. Also, many people traveled very far (across the country and descended from mountain towns) so that they would have the opportunity to receive the healthcare they needed. I don't understand why it is so hard to provide all citizens with an equal chance to live a healthy life both in Honduras and the United States. As a nurse practitioner, no matter where I end up working, I will help as many people as I can with the resources I have and will do my best to remove any and all barriers that might prohibit my patients from getting the healthcare services they deserve.
Rural communities are in need of healthcare providers. You have an interest in rural health, tell us why? When did you know you wanted to work with rural and underserved populations?
I am interested in rural health because sometimes, I feel, this is the population that slips through the cracks of society's focus. Big cities often offer lots of physicians, specialties, services, etc. Rural communities are entitled to the same kinds of healthcare. My love for underserved populations started during my experiences volunteering in Africa as an undergraduate nursing student. I learned at a young age how important it was to use my voice for those who didn't have one and plan to continue advocating for underserved populations in my career as a nurse practitioner. 
What do you plan to do after graduation?
To be honest, I don't know! I have a lot of options, and I'm just trying to see where life takes me. 
What is your dream job?
My dream job is to drive a van around communities and help people of all ages and bring healthcare to people who don't have any. 
Best piece of advice you would give to a graduate student pursuing the NP?
Be prepared to sacrifice a lot in your life for a short period of time. Two years later, I can tell you every moment is worth it!
If you could meet any person – living or dead – who would it be and why?
Princess Diana. She used her wealth and fame to do incredible things for mankind.  She was one of my role models growing up and was a true example of what it meant to give back the blessings you've received. 
Gold or Blue?
Gold. Highest medal there is!