Student Blog
Over spring break I was fortunate enough to have the opportunity to return to Nicaragua with the WVU Global Medical and Dental Brigades. This could not have been possible without the School of Nursing, and I cannot thank them enough. Nicaragua struggles with inadequate access to healthcare, but is full of citizens who are happy, strong and willing to work hard to provide for themselves. When we left 10 days later, I was sad to be leaving such an amazing country full of beautiful people, but full of gratitude and happiness due to the Nicaraguans I interacted with.
The first four days of the trip were dedicated to opening a clinic which is by far my favorite part. Although WVU SON provides with me plenty of clinical experience, working in this part of the world is so unique. We did not have the resources provided to us in a typical hospital in the United States. Our brigade was split into two different groups in two different communities where we saw over 2,000 patients combined.
The clinics opened at 9:00 a.m., but by the time we arrived at 8:30 there would already be a line of villagers, some who had walked for more than two hours to see us. We were seeing people who had not seen a doctor in years. Patients would usually have to wait over an hour to first go through triage which is where I usually worked. We would take their vital signs and then they would wait in another line to see a doctor. The doctor's interaction with the patient would usually not last longer than about five minutes, and they could be prescribed the most basic meds, such as ibuprofen or topradol. Most of the patients visiting the clinic just wanted ibuprofen or vitamins, which breaks my heart. They had to dedicate an entire day off of work and wait for hours to get a medication that I can have in 10 minutes by walking to CVS.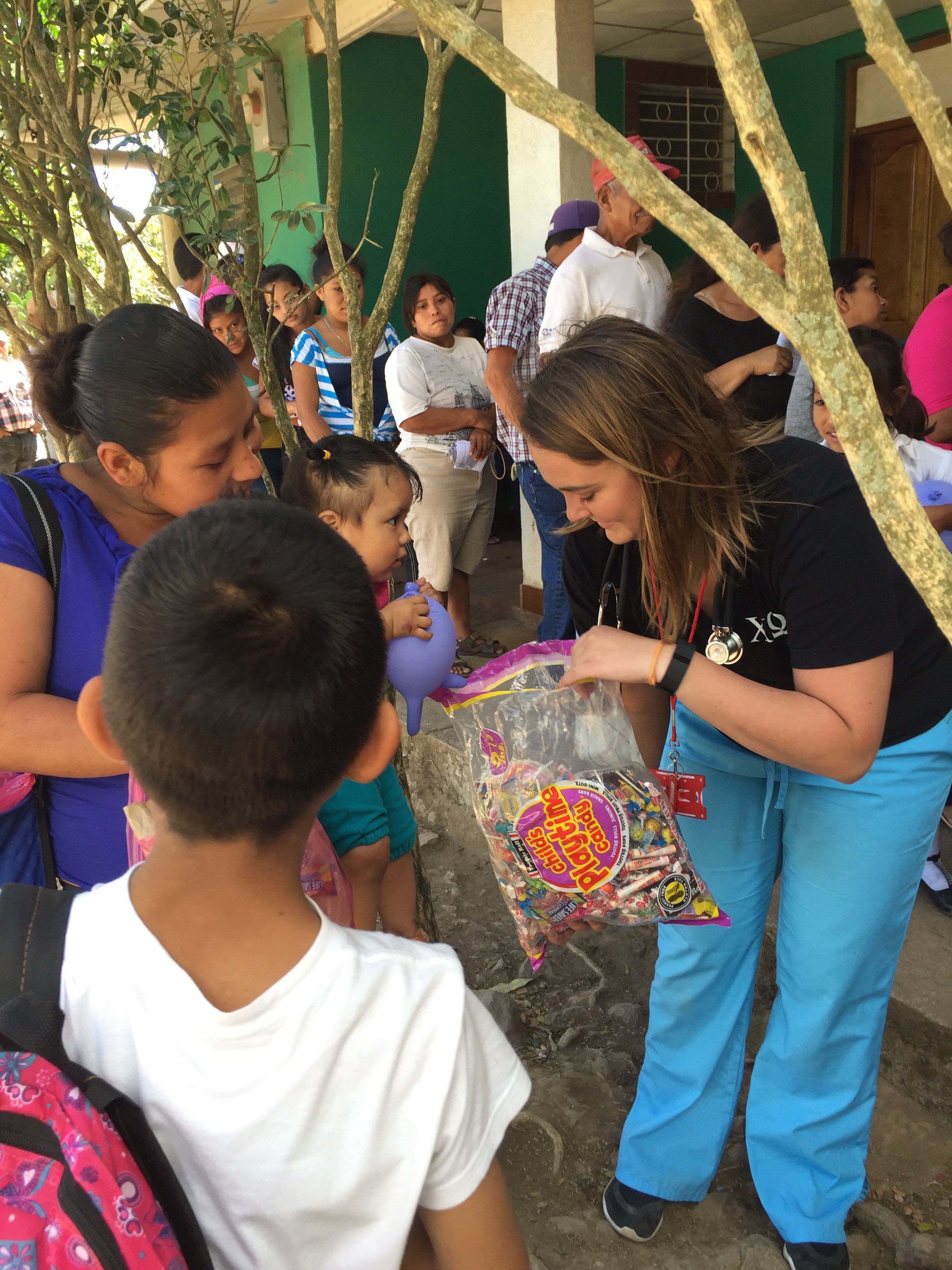 Not only did this trip give me clinical experience, I learned other valuable lessons that will help me in my future. With all the resources we have in the hospital it is easy to forget how to do the basic skills. We won't always have a blood pressure machine; we will need to do it manually. Working in a clinic in rural Nicaragua proved to me this importance. I also became more culturally aware. Even with the language barrier I was able to communicate with these patients through laughter and medicine. I had to gain these villagers' trust to hold their babies and assess them and their children. Trust is imperative to nursing. I was reminded I cannot judge a patient just because they are not as privileged as me or live differently than I do. This trip is an experience I will never forget and I am so thankful that I was able to see that medicine is more than just treating a patient in a hospital and that the rest of the world does not have the access to health care that Americans do.
Written by Krystal White, SON student