May Commencement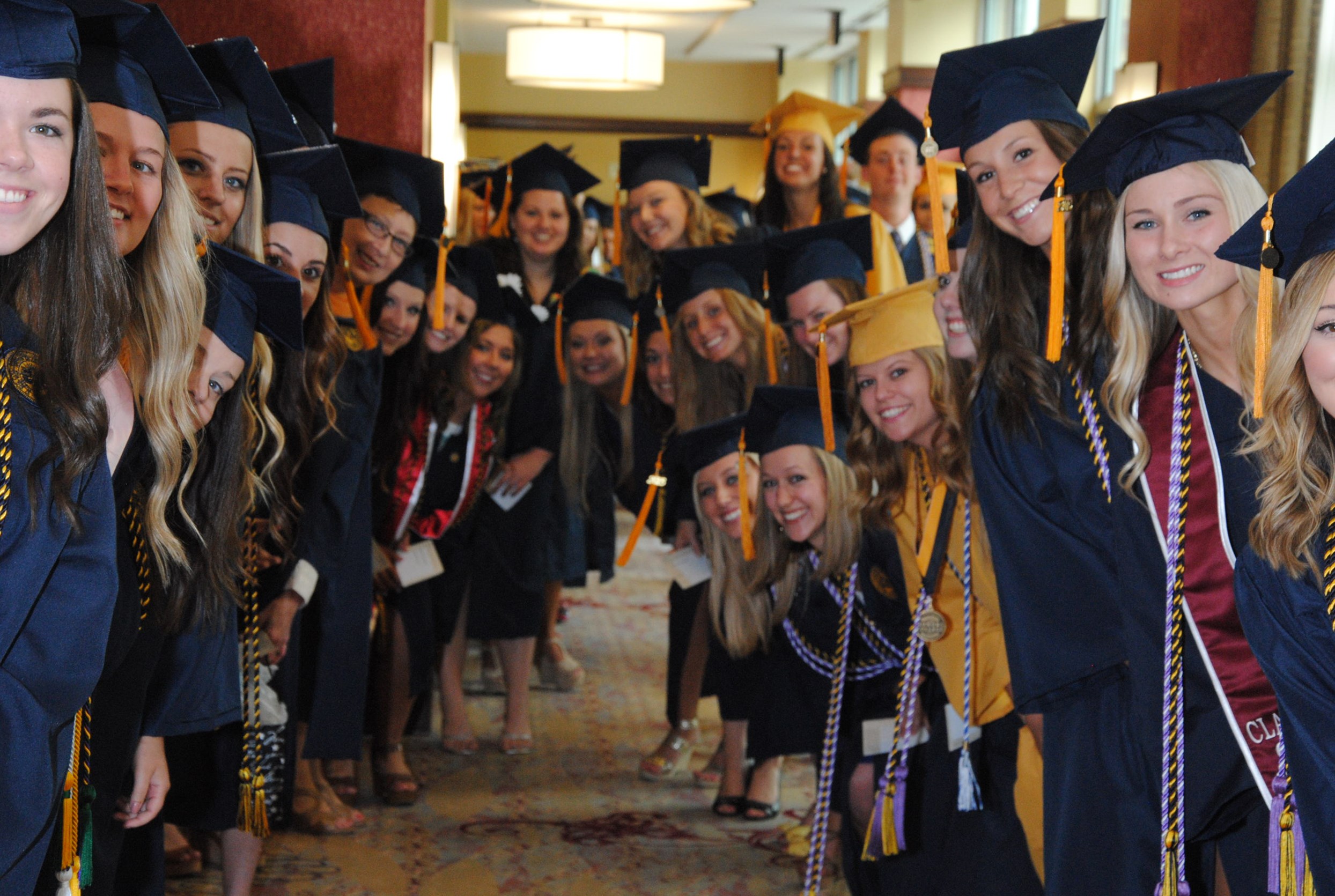 Commencement ceremonies prove to be an exciting day in university life when the men and women who come to this institution seeking higher learning, and in the School of Nursing's case, preparation for a profession, have completed this challenge and are ready for the recognition the university confers with awarding of the degree. We look forward to acknowledging and celebrating the accomplishments of our fine graduates.
Our commencement ceremony will be held on Saturday, May 13, 2017, at 12:00 p.m. at the Creative Arts Center.
A commencement brunch will be held from 8:30 a.m.–10:30 a.m. at Evansdale Crossing (see info below).   
Thursday, May 11, 2017 – Mandatory Rehearsal, HSC North, Ground Floor, 2 p.m.
A mandatory rehearsal for all graduates participating in the School of Nursing Commencement ceremony will be held on Thursday, May 11 at 2 p.m., on the ground floor of Health Sciences Center North. Grads are asked to report to the double doors near MDTV/ETRU (mid-way down the hallway on the ground floor of HSC). After lineup is completed, grads will enter Okey Patteson Auditorium from backstage.
Saturday, May 13, 2017 – Brunch Reception at Evansdale Crossing, Fifth Floor
8:30–10:30 a.m.
Brunch and reception for students and families
Informal, you may arrive and leave at any time
Evansdale Crossing is within walking distance of the Creative Arts Center. Please note: there are multiple parking lots for students/faculty/guests adjacent to Evansdale Crossing and the Creative Arts Center. 
Please arrive at the Creative Arts Center by 11 a.m. Lineup begins at 11:30 a.m.
Directions to Evansdale Crossing
Saturday, May 13, 2017 – WVU School of Nursing Commencement Ceremony, WVU Creative Arts Center
Arrive at 11 a.m. and report to the Gladys G. Davis Theatre
Check in at registration desk to receive your name card

Undergraduate students graduating in May will also receive Honors' cords, if applicable. August graduates will not receive Honors' cords at this ceremony.
Doctoral students will carry their hoods.

Lineup begins at 11:30 a.m. Ceremony begins at noon and will last approximately 1.5 hours
Degrees will be conferred and diploma covers will be given out at the ceremony
All undergraduate students, MSN and Post-MSN students will be pinned by the Dean (the pin will be attached to your name card)
Doctoral students will be hooded by their committee chair or advisor
Per WVU University Events, only the names of students who are graduating with a degree in May will be printed in the Commencement program. Any student who anticipates graduating in August 2017 will be listed in the December 2017 program. Everyone who participates will have the opportunity to have your name announced, be pinned or hooded and walk across the stage
If you plan to attend the brunch and/or the Commencement ceremony, please RSVP by April 21, 2017. 
All WVU May Commencement ceremonies will be webcast live. These webcasts can be viewed on the webcast.wvu.edu page. After the events, they will be available for viewing on WVU's official YouTube Channel - WestVirginiaU.
Regalia
Academic regalia (cap & gown) is required for commencement. Nursing students are encouraged to purchase their regalia from the HSC Bookstore to ensure receipt of the correct regalia and tassel. Please contact Chuck Bowers at (304) 293-4849 to order your regalia.
Accommodations for Out-of-Town Guests
The Morgantown area has a number of hotels for guests looking for overnight accommodations. Visit the Greater Morgantown Convention and Visitors Bureau  to book a hotel, as well as get information on activities and events in the area.